How to Connect:
To Play Lineage 2 Slaying The Dreamer Server, you must have installed the Lineage II: Chaotic Throne I: Hellbound game client. You can download it from:
Choose one of the download servers: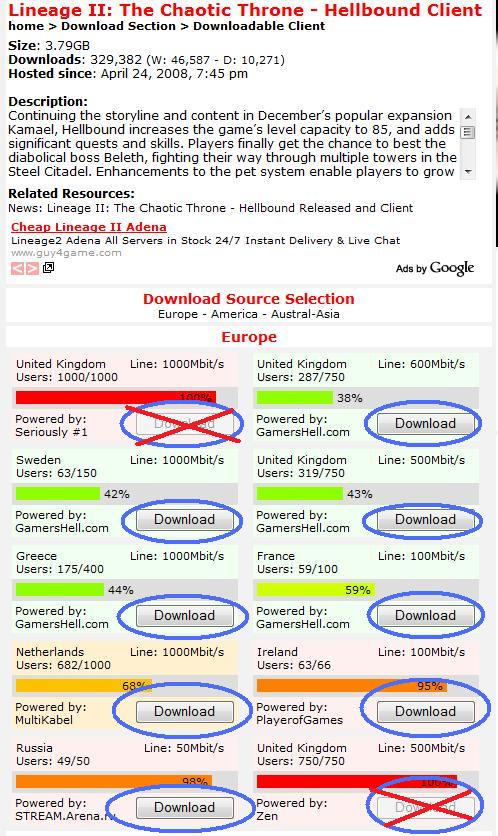 Select green servers to begin the download, after a moment you will be able to do it.
Once downloaded the client, you must uncompress and install it. (recommended C:\Program Files directory). at the end of the installation, you must have something like this:
We recommend execute the red file and press full check botton to check that download and installation are correct.
After this steps, you must do the following to play Slaying The Dreamer server:
You must download custom system folder from our mirrors in:
(by clicking on the link, a page will appear. Wait for the loading and then there will appear some dowload servers as rapidshare,megaupload,easyshare,etc.. choose one and download the file)
After the download you must erase the original installation system folder and replace it with the custom system folder you have downloaded in last step.
With this steps it's all ok to begin playing, but if you can't play following that steps, you must do the next:
Edit Host file:
1. You must go to
C:\Windows\System32\drivers\etc
2. Right click over hosts file, and open it with notepad.
3. Erase all of it contents.
4. Copy the next code:
Código:

# Copyright (c) 1993-1999 Microsoft Corp.
#
# Éste es un ejemplo de archivo HOSTS usado por Microsoft TCP/IP para Windows.
#
# Este archivo contiene las asignaciones de las direcciones IP a los nombres de
# host. Cada entrada debe permanecer en una línea individual. La dirección IP
# debe ponerse en la primera columna, seguida del nombre de host correspondiente.
# La dirección IP y el nombre de host deben separarse con al menos un espacio.
#
#
# También pueden insertarse comentarios (como éste) en líneas individuales
# o a continuación del nombre de equipo indicándolos con el símbolo "#"
#
# Por ejemplo:
#
# 102.54.94.97 rhino.acme.com # servidor origen
# 38.25.63.10 x.acme.com # host cliente x

127.0.0.1 localhost
216.107.250.194 nprotect.lineage2.com
lineage2-dns.no-ip.biz L2authd.lineage2.com
lineage2-dns.no-ip.biz L2testauthd.lineage2.com

5. Save the file and exit.
All ok! Enjoy playing!
NOTE:
If when you are playing you notice that the following error appears on your chat screen (System Message Format: 2261/2262), you must download this file and place it on your system folder:
See you on L2 Slaying The Dreamer Server!
GM WhiteStorm
_________________
(\__/) Mujaja este es el conejito que gobernara a el mundo
(='.'=) Ayudalo a conquistar el mundo poniendo su imagen en
(")_(") tu firma. Obedece al conejito o ya veras
Admin





Mensajes

: 158


Fecha de inscripción

: 20/06/2008



---
Permisos de este foro:
No puedes
responder a temas en este foro.